The Streator Chamber of Commerce focuses on 4 areas of support for our members:
Networking is powerful! It's NOT just who you know, it's who others know.
Expand your business network exponentially through the Chamber! Through our Member Directory, Networking Events, Committees, Sponsorships and more, there are so many opportunities to meet and form relationships with your fellow local business owners. Chamber membership also allows you and your business access to participation in local events, volunteer opportunities, and local leads and networking groups.
LEADs Group and YOPRO
The Chamber has two affiliate business groups under our fold, our LEADs group and our Young Professionals group. These groups provide a chance to get acquainted with your fellow businesses in the area and to offer and receive support when needed. LEADs requires Chamber membership to join, and the YOPRO group strongly encourages Chamber membership as well.
Caffeinate & Connect and Business After Hours Events
Caffeinate & Connect is a monthly event for Chamber members hosted by a different Chamber member each month. This event is a casual, fun opportunity for networking and socializing, including food and drink. They also serve as excellent promotional events for Chamber businesses to make themselves known in the area. Business After Hours is an event held upon request by a Chamber member. Contact our office to find out more on how to become a sponsor of one of our Caffeinate & Connect events or a Business After Hours.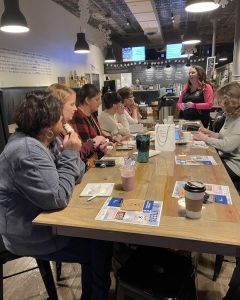 Pictured: Our Caffeinate & Connect hosted on 1/6/23 at More on Main. Sponsored by LaSalle County CASA.
Gain more exposure for your business!
Being a member of the Chamber increases your visibility in the community in multiple ways! We feature your business on our all new Streator business map, promote your social media presence, email blast your news and events to our members, provide special Member Spotlight opportunities like Ribbon Cuttings and Business of the Month, provide sponsorship opportunities, and refer your business to inquiring consumers. 
Streator Business Map
Our newly created electronic map is computer and mobile friendly and includes our Chamber members as well as businesses currently registered with the City of Streator. As a Chamber member business, your business listing will feature additional information and website links. The mobile version allows users to get directions from their current location to any destination they select on the map.
E-Blasts
Our email blasts go out to over 500+ contacts from all over the local area! Unlike most chambers in our area, every business gets one free e-blast PER MONTH, with every e-blast after that costing $25.00.
Ribbon Cuttings
Our Chamber Ambassadors are a talented, dedicated group of individuals that serve as advocates of the Chamber to the Streator community, educating, sharing, and promoting the benefits that come with being a Chamber member. Ambassadors are also in charge of helping welcome new businesses to the area and helping commemorate milestones for local businesses. They play an essential role in member recruitment, communication, and retention, assisting with meetings and annual events as well as attending ribbon cutting ceremonies.
No matter what kind of change your business is celebrating, the Chamber wants to help celebrate it with you! As a Chamber member, you have access to request a free ribbon cutting for events such as opening a new business, moving to a new building, or just rebranding your existing business. Our Chamber Ambassadors will help celebrate your change with a ribbon cutting, and your success will be posted on our social media. We also share these milestones with the local press.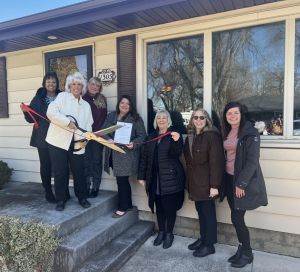 Pictured: Ribbon Cutting at Coty's House with the Streator Chamber Ambassadors. 3/14/23
Business of the Month
The Streator Chamber of Commerce also recognizes and honors the achievement, leadership, and impact local businesses make to our organization and the community at large. Our Chamber Ambassadors select award winners monthly and hold congratulatory Business of the Month presentations to celebrate the award winner's achievement.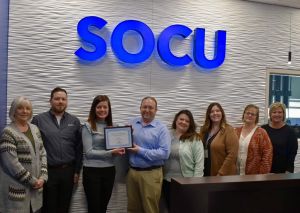 Pictured: February 2023 Business of the Month Winner, SOCU with Mayor Bedei and the Streator Chamber Ambassadors. 3/17/23
Referrals
The Streator Chamber receives phone calls and requests on a daily basis for information on local restaurants, businesses, and events. We respond to these inquiries with referrals to our members and encourage our members to also refer their fellow chamber members when asked similar questions. We are proud to refer our members to first-time visitors or even long-time residents of the area.
Online Visibility
As a Chamber member, you will not only receive your own directory page linked on our website, but you will also be able to have your business promoted on our social media pages and shared into various community groups. We also offer advice with your social media presence and making the most of your online visibility.
Sponsorship Opportunities
We are always striving to provide the best resources and opportunities to our members. Events like our Annual Dinner, our Annual Golf Outing, and our Tailgate Fundraiser are all available for our members to take advantage of and make new connections, as well as gain business exposure.
Growth!
We know the business world is always growing and changing, and that you're growing with it. Part of the Streator Chamber's mission is to support and encourage growth for our member businesses, both individually and collectively. The Chamber offers assistance to our area business start-ups and expansions by partnering with the City of Streator, private enterprises, and government organizations.
Develop your employees through educational and leadership opportunities offered by the Chamber! We also are always willing to seek out resources and training upon request. Highlights of opportunities in 2022 have included a Drive Thru Job Fair in March and a How To TikTok seminar in September, both exclusive to Chamber members.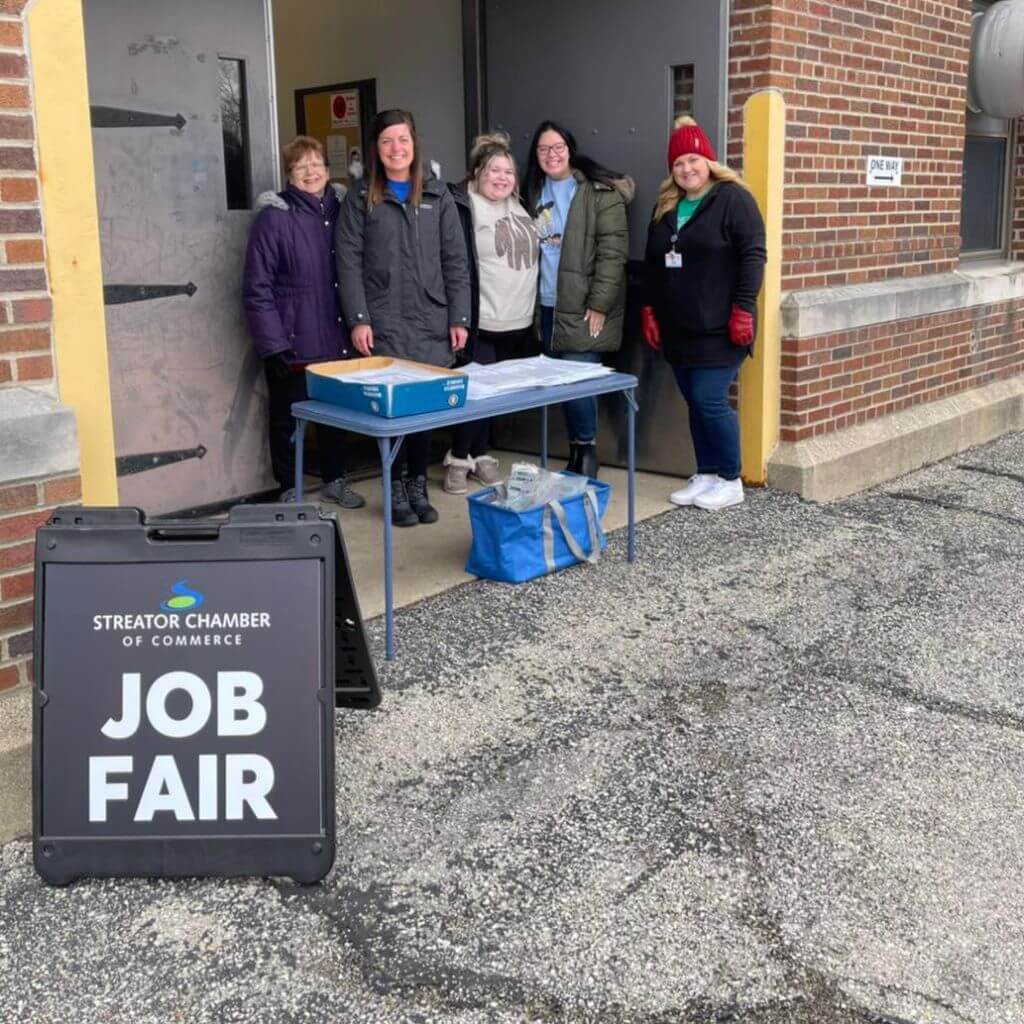 Pictured: Streator Chamber Ambassadors and YOPRO members provide assistance at our Drive Thru Job Fair in March 2022.
Community image is key!
The Streator Chamber advocates for our members and the business community. We pay attention to changes in local policy and partner with the City and Mayor Bedei to share relevant information, advice, and opportunities with our members. The Streator Chamber staff are always willing to answer questions about Chamber membership and discuss general business issues.
Chamber Committee Groups
Chamber members have the opportunity to serve on our Ambassador, Fundraising, and Education and Events committees and make their voices heard on things like planning events, membership services, and educating our members and our community. All Chamber members, regardless of level, also have the opportunity to serve on our Board of Directors if nominated and elected.
As a member-oriented, community focused organization, the Streator Chamber aims to uplift our members in such a way that benefits the Streator area. This includes involvement in local events such as the Streator 4th of July Celebration and parade, the Live Well Streator Poker Walk, Downtown Trick-or-Treat, and Light Up Streator's holiday lighting contest. As a Chamber member, you will receive opportunities to participate in and support these events as well, leading to increased visibility and positive association in the community.
...And much, much more!
These are just a few of the many benefits that come with being a Streator Chamber member!
We are always searching for new ways to better support our members. Have an idea or a question? We'd love to hear from you! Give us a call at 815-672-2921 or email us at streatorchamber61364@gmail.com.